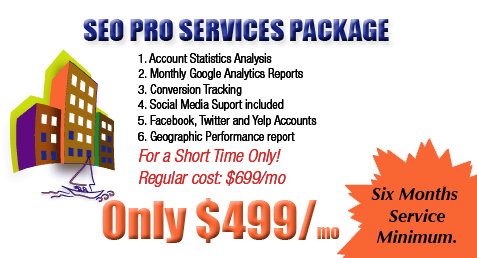 SEO (search engine optimization services) professional services plus webmaster support services working together as an effective online marketing strategy to achieve greater website visitor conversion.
This is a package that includes all the basic services any business online venture should have to reach the marketing goals. Our professional optimization services packages begin at $699 a month, on a 6 month minimum contract, but for a short time only, you can get the same services for only $499/mo when you mention this ad.
As a strategic manager of your virtual business we will ensure that your website pages are not just optimized, but ready to convert your visitors into buyers, members, or happy users of your website.
Many people wonder if they really need a webmaster. Why don't you find out for yourself what the job entails and decide for yourself? Do you really need a Web master? Learn out more about what involves being a web master.
How do we accomplish your marketing goals?
√ Account Statistics
We gather statistics from commercial and Open Source applications. We use that information to create strategies and give you recommendations for, and about each page on your website. These reports will let you know if your visitors are converting into users, buyers, or members of your site, or if they are simply leaving without taking further interest on your website.
√ Monthly Reports
All our support activities on behalf of your website are carefully logged and delivered to you, monthly.
√ Conversion Tracking
This is a very important aspect of website marketing. How many of your visitors take the expected action? Did the fill up a form, call you, emailed you? We tell you.
√ Account Snapshot & Alerts
Is your website suddenly losing ground in the search engines? Or is it doing better much better? We let you know about any significant change immediately, when significant or necessary.
√ Google Analytics
Do you understand Google Analytics results? We do. We also make sure that you do too, and that you only get the information you want to receive, no more, no less. Google analytics is a powerful analytics application but can be daunting for the novice or occasional user. It is because of it's powerful analysis capabilities that it is widely used to track traffic. International, National and Local website search engine positions are also tracked by Google analytics. We use this information to clearly define the tactics for your website pay-per-click (PPC) strategy. We also use this results to further help us define where to focus our optimization efforts. A log of the results of application of these optimization strategies is included in your monthly services report. Try us out, and experience the difference of professional services that deliver what they promise.
√ Geographic Performance report
Local website optimization is included in your monthly services. Try us out, and experience the difference of professional services that deliver what they promise.
And Much More!
Do you have any questions about this service? plese feel free to contact us! We understand that every case is different.
Request a Quote: You can use the email form at the footer of every page in this website, or
just visit our Contact us page and get a FREE website analysis.